OGC 3D Data Container and Tiles API Pilot
The goal of the 3D Data Container and Tiles API Pilot is to explore an integrated suite of draft specifications for 3D tiled geospatial resources and compatibility with existing OGC 3D delivery standards such as the 3D Portrayal Service, I3S, and 3D Tiles Community Standard. This suite will support smooth transitions between 2D and 3D environments; allow applications working with 2D tiled resources to get 3D tiled resources; and enable 3D tile bounding volumes to support multiple data containers.

To achieve these goals, the Pilot will develop a draft API that is compatible with the OGC API group of standards (and candidate standards) and which allows access to, and query of, 3D geospatial data and a corresponding container format for streamed data delivery compatible with glTF. The Pilot funds a number of data server and client implementations to test the new API and data delivery. Further, the Pilot will include an analysis of characteristics and capabilities of the new API in comparison with existing or emerging 2D standards.

Official Site To the 3D Container Landing page To the Client Application
OGC 3D IoT Platform for Smart Cities Pilot
The goal of the pilot is to advance the use of open standards for integrating environmental, building, and internet of things (IoT) data in Smart Cities. Under this initiative a proof of concept (PoC) will be conducted to better understand the capabilities to be supported by a 3D IoT Smart City Platform under the following standards:
Outdoor 3D City Model: CityGML
Indoor: IndoorGML
Geo-IoT: SensorThings API
Official Site
To the App
OGC CityGML Challenge 2019: Manchester3D
A team of HFT Stuttgart will participates in CityGML Challenge with Manchester3D web app. In this challenge the Open Geospatial Consortium is encouraging software developers to configure visualisation software tools to support the capabilities of version 3 of CityGML, including dynamic data feeds from a range of sensors. The resulting tools and visualisation environment are to be made openly available for one year for wider non-commercial experimentation and innovation purposes, in particular as part of a Triangulum Innovation Challenge focused on energy and mobility applications. Our app has several features including:

Visualizing sensor data feed from SensorThings API and other API provider.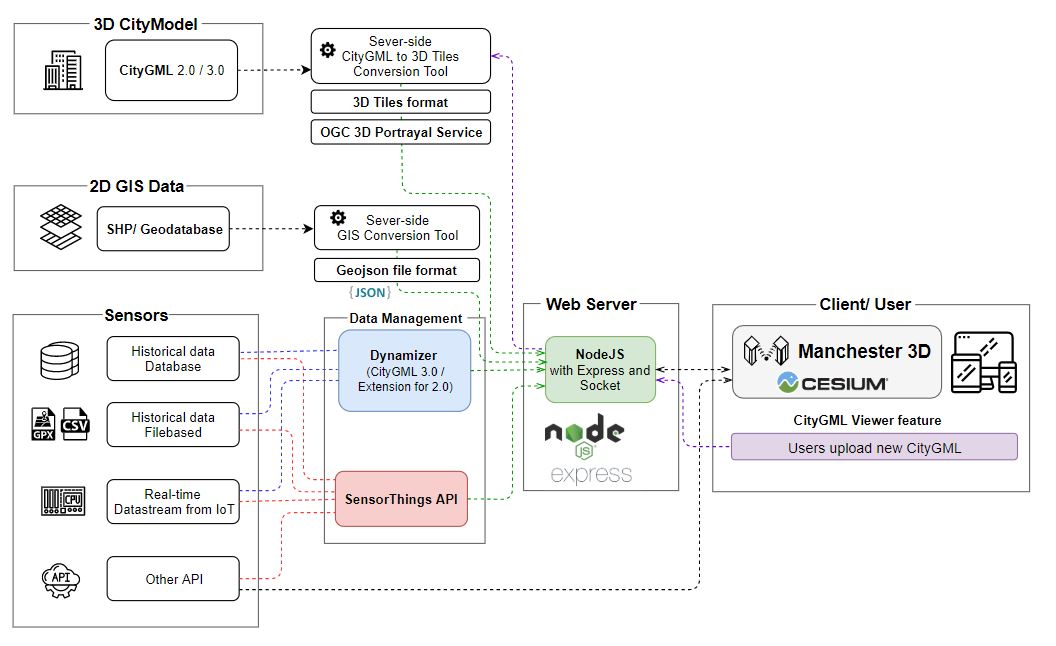 CityGML Web-Viewer (Drag&Drop)
Manchester3D Project Website
OGC Testbed 14: 3DPS and WFS 3.0
OGC Testbed 14 Complex feature handling ER has been published. It includes a prototype showing WFS 3.0 and 3D Portrayal Open API. http://docs.opengeospatial.org/per/18-021.html
(and on github: https://github.com/opengeospatial/D040-Complex_Feature_Handling_Engineering_Report)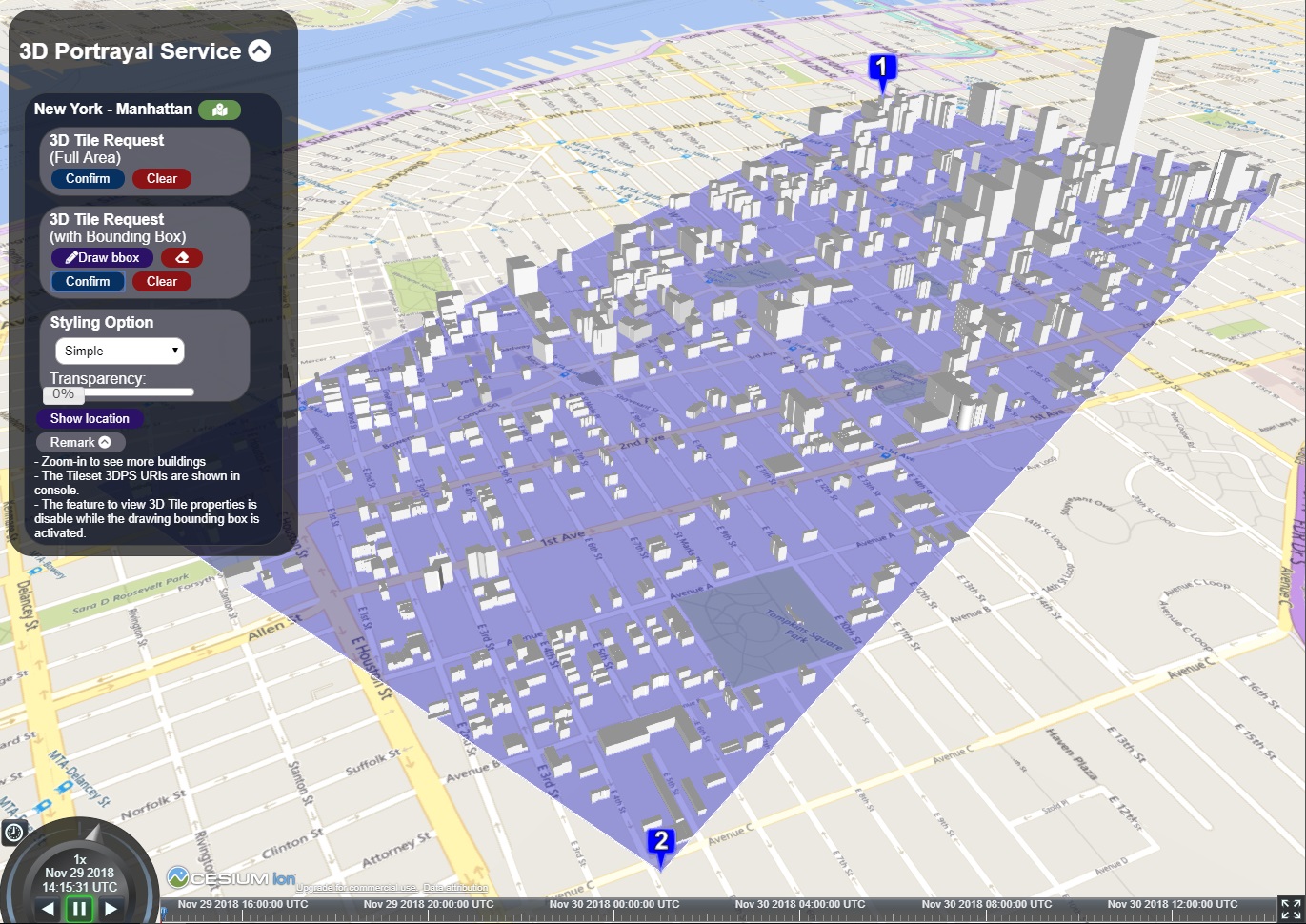 Example

API DOC: http://steinbeis-3dps.eu:8080/tb14/API/index.html
API Example: http://steinbeis-3dps.eu:8080/tb14/wfs3/3D_CityModel_manhattan/collections/buildings/scene?format=application/json&bbox=-73.99562241015136,40.72227595290325,-73.9799164993194,40.749273379993284
Demo online: http://81.169.187.7:8081/3DPS_App/
YouTube: https://youtu.be/3nHOvJMaKIs
Response Tileset: http://tb13.igd.fraunhofer.de:8083/3dps/datahoster/fc38b549-4989-4703-bb27-f5b4fd33fd90/manhattan/tileset.json


3D CityModel Viewer
An experimental "CityGML" viewer in Cesium, uses FME to convert CityGML to 3D tiles but keeps the semantics of CityGML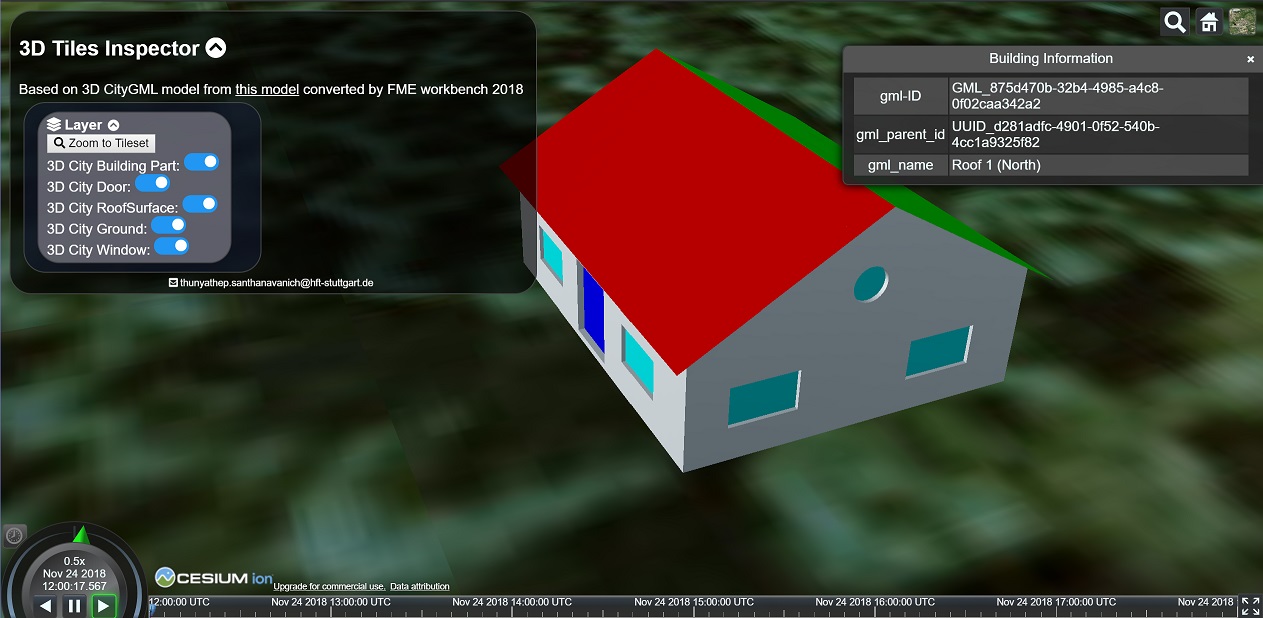 To the App